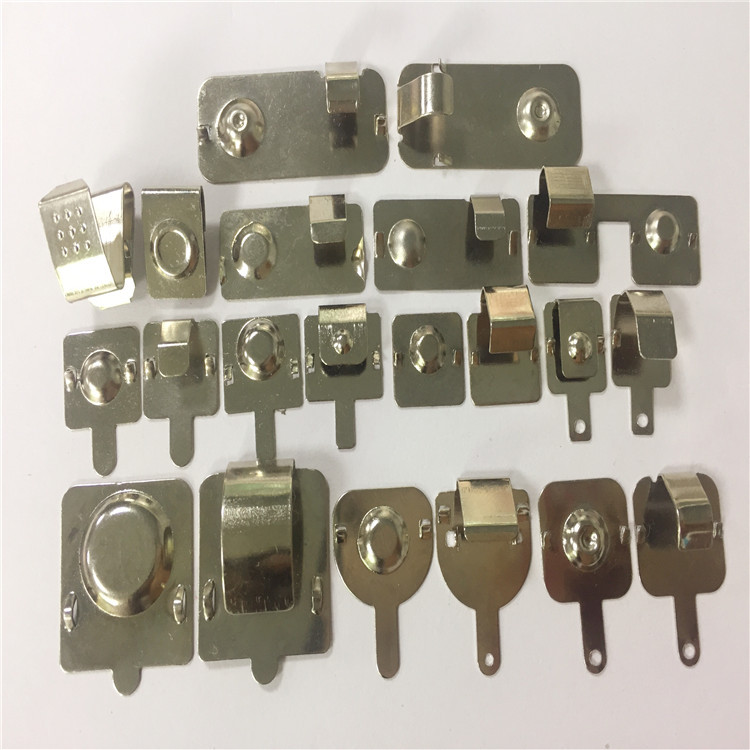 (1) Application of metal shrapnel
Metal Shrapnel is mainly used in electronics, communications, transportation, medical, industrial and so on.
(2) The material of the metal shrapnel
The main materials of the metal shrapnel are spring steel, stainless steel, brass, phosphor bronze, red copper, beryllium copper, titanium copper alloy, etc.
Specificity of each material:
A. The spring steel has different specifications and models after subdivision. The general feature is that the spring steel can be heat treated to increase the elasticity of the product and the cost is relatively low;
B. Stainless steel materials also involve many different specifications and models, but most of them will choose SUS301 and 304 from the perspective of making shrapnel. The advantage of using this material is that stainless steel has certain shrapnel, and it is wear-resistant and corrosion-resistant. good sex;
C. If the brass material has high requirements on the elasticity of the shrapnel, it is generally not recommended to use it, but if it is only a contact shrapnel, this material is a good choice with high cost performance;
D. Phosphor bronze as shrapnel is often used for contact shrapnel such as switches and sockets. Phosphor bronze has many advantages, such as service life, reliability, and electrical conductivity, which are stronger than spring steel and stainless steel, and the cost is relatively higher than them.
E. The purity of copper is high, and the surface looks very delicate. The main features of choosing red copper as shrapnel are high conductivity and low resistance. It is mainly used for contact shrapnel in cables, instruments, etc., so if the shrapnel considers conductivity rather than fatigue resistance, this material is very good. choose.
F. Beryllium copper is a material that can increase high elasticity by aging heat treatment. If there are high test standards for elasticity, fatigue resistance, electrical conductivity and stability, beryllium copper is the most reliable and safest choice. Of course, it The cost is also higher than all the materials described earlier.
G. Titanium alloy is a high-end precious metal material with high fatigue resistance and high stability. Mainly used for aviation, military products.
(3) Surface treatment of metal shrapnel
The surface treatment of the metal shrapnel includes nickel plating, tin plating, silver plating, and gold plating. These four are relatively common electroplating requirements, which also means that the metal shrapnel products involve the most. You must also want to know what to choose?
Nickel plating has the lowest cost among the four types of electroplating. After electroplating, it can effectively prevent oxidation of the surface. If the appearance is the main factor and it can conduct electricity, nickel plating is the best choice.
Tin plating has very good solderability and anti-electromagnetic interference. Usually, metal shrapnel used for PCB board solderability will choose tin plating.
Both silver-plating and gold-plating are relatively expensive, and the silver-plating of shrapnel is mainly to increase the conductivity. It is rarely used in the electroplating requirements of shrapnel products. Gold plating mainly considers that the shrapnel and related components can fully contact and conduct electricity, and there must be high requirements for the stability of conduction and oxidation resistance.