Bosi Hardware is a company that provides global hardware mold manufacturing and precision hardware non-standard parts customization. It provides integrated services from sample development to mold design and manufacturing, and then to mass production. The main products are stamping dies, shielding covers, metal shrapnel, terminals, precision metal stamping parts. The company has IATF16949 and ISO9001 quality system certificates, the products are exported to Europe, America, the European Union, South Korea, Japan, Taiwan and Southeast Asia and other countries and regions.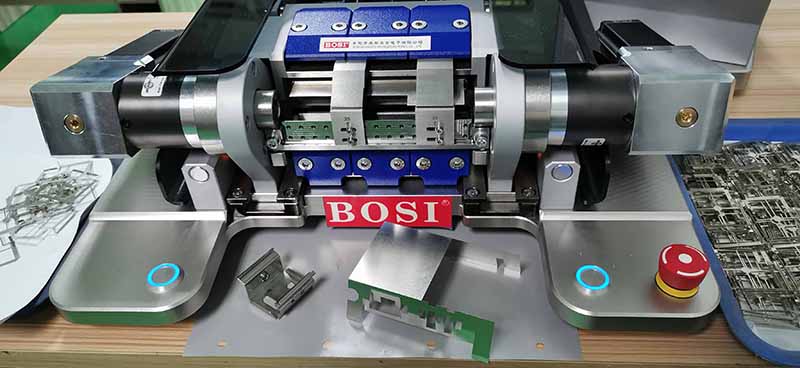 Our micro CNC proofing machine is imported from Germany and is the only one in China at present. We specially sent technical colleagues to Germany to learn the operation and use functions of this equipment. Why are we paying so much for this device? Because of the current simple products, most of them use simple fixtures. Often, the stability of this traditional simple fixture cannot be controlled. For difficult hand-pull samples, customers need to pay expensive costs and take a long time to develop molds to complete. Not only the stability cannot be controlled, but also affects the final test. The high cost and long time directly affect the competition of the product in the market.
The following introduces the functions of this German imported proofing machine:
1. How many steps can be realistic? Fully computer controlled more than 100 programs, supporting stepped tool set ----- more than 100 kinds of precision matching jigs, in terms of absolute accuracy and repeatability, it can realize rapid prototyping of any complex hemming structure.
2. How to input the program? First of all, we design and input the molding steps through computer programming at one time, and then debug. After the debugging is OK, the molding is gradually formed. This is the operation for the first proofing, and the existing program can be directly transferred to the subsequent proofing of the product. Realize rapid prototyping.
3. How much accuracy can be achieved? One-time molding accuracy can reach 0.01MM
4. What is the thinnest product thickness? Our thinnest thickness can be 0.04MM, the thinner the product, the more difficult it is to form and the more difficult to guarantee the accuracy
5. How soon can samples be produced? Samples can be produced in the fastest 24 hours
6. What is the surface effect of the prototype sample from this equipment? The surface is very smooth, no scratches, no indentations, no creases, and no oil stains
7. What samples can be produced with this equipment? All high-demand hardware terminals, connectors, shields, shrapnel, contact pieces can be realized
8. How many quantities is this equipment suitable for? The sample parts can be reproduced from 1 to 5000 without failure, and customers can consider using a micro CNC proofing machine for small batches, because it is not cost-effective to open the mold.
Are you still worried about your development time? Bos Hardware provides you with three-day fast proofing, saving mold opening, repeatability 0.01mm, flatness 0.02mm